When a meeting was hosted in Webex, users have had the option to record these meetings. When selecting record, Webex gives you the choice to save these recordings to the cloud or to your computer.
Meetings recorded and saved to the cloud will need to be moved from Webex to Box, if you wish to keep these recordings for the future. To retrieve these recordings, follow the steps below.
Navigate to Webex online through OneLogin. After clicking the tile, you will need to click "Sign In" in the top right corner of Webex.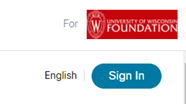 Note: If you don't see the Webex tile in OneLogin, try clicking the Company: University of Wisconsin Foundation Tab. It may not be under your Frequents tab.

Once logged in, select Recordings from the left-hand menu.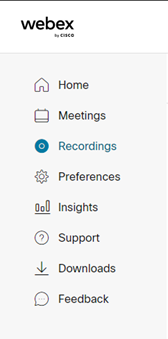 Find the Recording you wish to move to Box. On the right-hand side of the recording, you will see three options – the Download icon, the Share icon, and More […].
To move the recording to Box, select Download.

After downloading the file, the recording will be saved to your Downloads folder on your computer. You will need to then upload the recording to Box. You may wish to create a new folder for these recordings, otherwise save them wherever is appropriate for your use.