Once you have installed the LastPass browser extension, you can use it for all of your password management needs. You can fill your credentials and data for matching websites, search within your vault, or browse for items by category. You can also access your vault, add new items, generate secure passwords, manage account options, and much more.
Fill stored data for matching sites
When logging on to a website, the most closely matched login credentials are automatically filled in for you. To select a different username and password you have stored, you can click the active LastPass icon

in your web browser toolbar to select within the extension menu, or use the LastPass in-field icon

in the login fields to make your selection.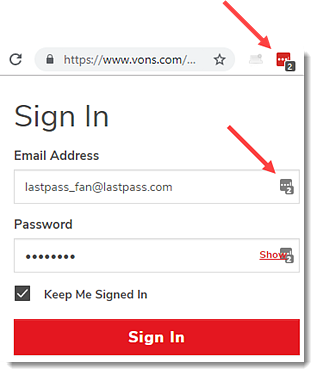 Search your vault
Use the Search field to look up specific username/passwords, notes, and items that you've already stored in your vault.
For password entries, you can:
Fill your username and password for the website you're currently visiting
Launch the website associated with your credentials (if you are not currently visiting that website)
Copy each field individually
Edit any fields that need updating
For note entries, you can:
Edit any fields that need updating
For all other item entries (addresses, payment cards, driver's licenses, etc.), you can:
Copy each field individually
Edit any fields that need updating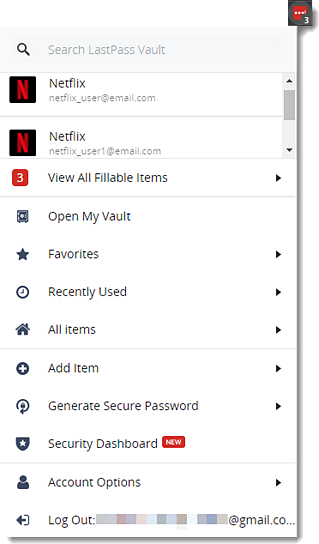 View all fillable items
If there are more than three sets of credentials for a site you are visiting, you can select the View All Fillable Items menu then select your desired set.
Open your vault
Select Open My Vault to view all of the items (passwords, notes, addresses, payment cards, etc.) that you have stored in your LastPass account in a new web browser tab.
Access your Favorites
You can select Favorites to view, fill, copy, and edit the vault items that you have marked as your Favorites in your vault.
View your recently used items
You can select Recent Used to view the last 10 items you accessed in LastPass; you can manage the list size in your web browser extension preferences by going to Account Options then select Extension Preferences > Advanced.
View all items
Select All items to navigate through your stored credentials and data via item categories (passwords, notes, addresses, etc.). This is the same view as the left navigation of your LastPass vault.
Add a new item
To add a new item to your vault, select Add item then select an item category that matches with the data you want to store. Fill in as much information as desired, then click Save.
Alternatively, you can manually save data by visiting a login window or web form, filling in the data you want to store, then go to Add item > Save All Entered Data to create a new item entry.
Generate a secure password
You can select Generate Secure Password from the extension menu, then customize your desired settings for creating new passwords.