You can download and install the LastPass Password Manager app for IOS to use for all of your password management needs while on the go.
Download LastPass through the intelligence hub on your phone
Tap Install
When the installation finished, open LastPass
Enter your email address then tap Log in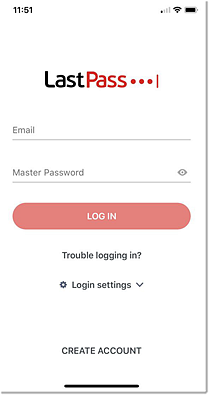 It will prompt you to sign into Microsoft.
Type your email and click Next
SSO will ask you to put in your username and password
NOTE: If you are not in the office, you will be prompted by DUO to verify your identity.
You have installed and logged into the LastPass Password Manager app for iOS. Your vault is displayed, where you can navigate using the All items view or by searching for individual passwords, secure notes, or form fill items.